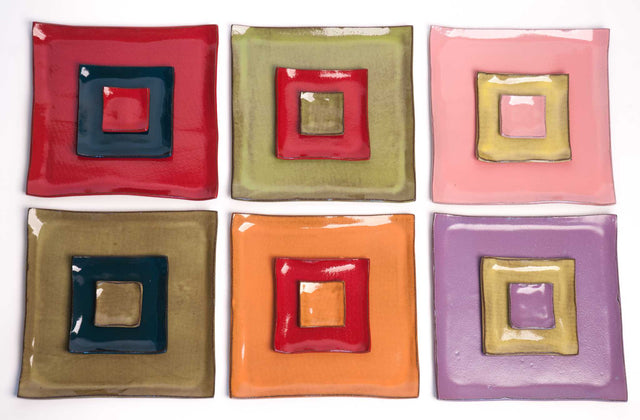 Color Study Set #1
Buy now, pay later with Klarna or Shop Pay.
Inspired by Johannes Itten's "The Art of Color" and his explorations in hue, this eighteen piece tableware set demonstrates some of his principles. These square stoneware place settings were created on the slab table using a chestnut brown clay. The eighteen piece set is inscribed with our signature J and stamped.

Red/Blue Place Setting: "Blue on red retains its dark figure, yet becomes luminous, asserting and maintaining its strange unreality."

Yellow Green/Red Place Setting: "On yellow-green, the red is an impudent, rash intruder, loud and common."

Pink/Yellow Place Setting: "Simultaneous effect shifts it towards greenish yellow, and its radiant power is subdued. Where pure love (pink) chiefly reigns, reason and knowledge (yellow) seem to languish."

Green/Blue Place Setting: "Blue on quiet green is markedly displaced towards red. Only by this "evasion" can it escape from the paralyzing saturation of the green and return to active life."

Orange/Red Place Setting: "On orange, red seems smoldering, dark and lifeless, as if parched."

Violet/Yellow Place Setting: "Yellow on violet has an extreme strength of character, hard and inexorable."

DETAILS
6 Sets of 3 Place Settings
Food Safe
Total Weight: 24 lbs
Each 3 Piece Place Setting Includes:
12" Plate
6 1/4" Plate
3" Plate
UNIQUE

We handcrafted the Color Study Set #1 in our Boothbay Harbor studio using a process and finish that is uniquely our own with a design aesthetic that is always true to our vision.