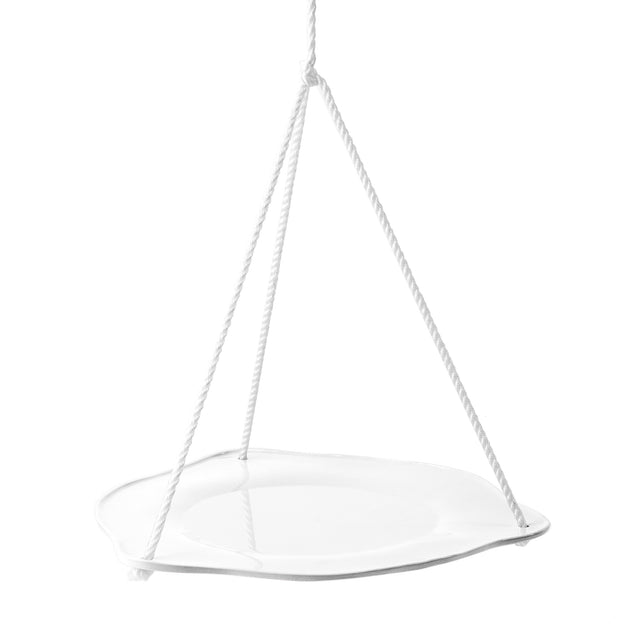 Bird Baths
Buy now, pay later with Klarna or Shop Pay.
Liberated from its pedestal, the J Schatz Bird Bath is free to soar from a sturdy tree branch. This unique stoneware basin has a 3" lip and talon grip edge that will give your feathered friends a comfortable place to land. Glazed on top in two glossy colors with a bright white bottom and hung with a white nylon rope, the J Schatz Bird Bath will be a graceful addition to your property.
"Boundary-pushing designs for alfresco environments"
- Interior Design Magazine
See Interior Design Spring Market Tabloid feature
DETAILS
Dimensions: 22 1/2" Diameter x 2 1/2" High
Weight: 7 Pounds
Capacity: 2 Quarts
Handcrafted Stoneware Bird Bath
3" Bird Bath Lip and Talon Grip Edge for Ease of Landing
11' White Nylon Hanging Rope
Signed and Stamped on the Bottom
EASY TO HANG & USE
Simply tie the rope to a sturdy tree branch or hook, and fill it with water. Clean with a cloth. We recommend that you store your birdbath indoors during freezing temperatures to protect from damage. 
MADE TO ORDER
We handcraft Bird Baths in our Boothbay Harbor studio using a process and finish that is uniquely our own with a design aesthetic that is always true to our vision. Please allow 6-8 Weeks for delivery.