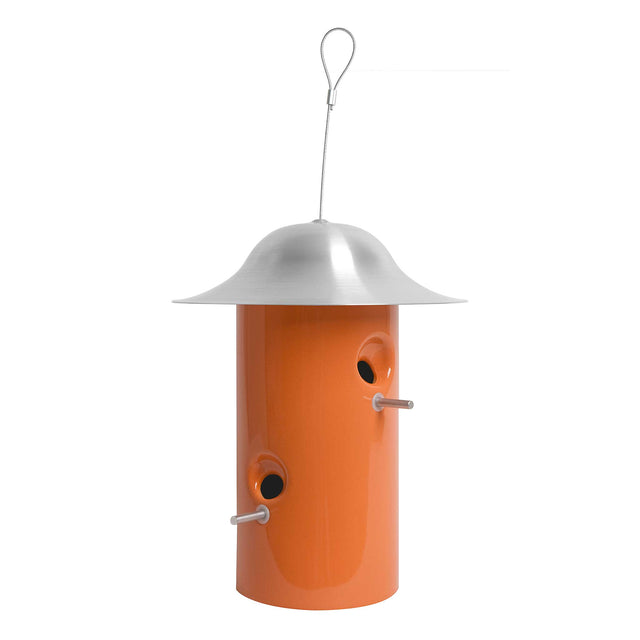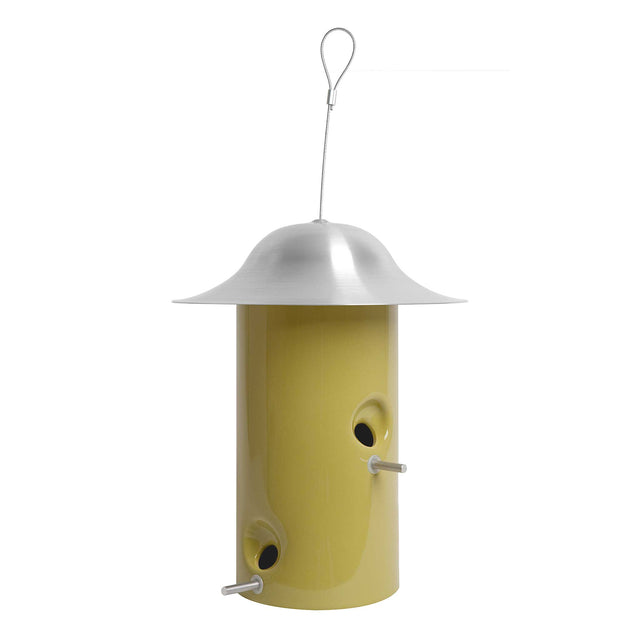 Bistro Bird Feeders - Custom Colors
Buy now, pay later with Klarna or Shop Pay.
Made to Order in 2 Custom Colors - Please allow 3-4 weeks for delivery
The in-spot for birds? Your backyard.  Rainy day protection of your birdseed is ensured with the Bistro Bird Feeder.  Perfect for birders in wet climates, the feeder consists of a stoneware feeding tube with an aluminum cover. Each of the four sides of the feeder contains a feeding hole, allowing birds to approach from all sides. Stoneware in our signature glossy finish means a slippery, durable finish that deters squirrels.  Made to order in these custom colors: bittersweet orange, moss green, slate grey, pink, and orange peel. Please allow 3-4 weeks for delivery. Returns are not available for custom-made color orders.
DETAILS
Dimensions: 11 1/2" High x 10" Diameter
Weight: 3 1/2 Pounds
Handcrafted Glossy Stoneware Feeding Tube with Top Fill Hole (located under cover), Four Feeding Holes, Four Aluminum Perch Poles and One Drainage Hole to prevent water accumulation
Custom Spun Aluminum Cover easily lifted to reveal Fill Hole
Vinyl Coated Hanging Wire sealed in Feeding Tube with a Rubber Washer
Easy to Use Seed Scoop and User Guide
Holds 9 1/2 cups Bird Seed
HOW TO USE
Fill the Bistro Bird Feeder by lifting the aluminum cover and pouring food into fill hole. View the complete Bistro Bird Feeder User Guide.
MADE TO ORDER
We handcraft Custom Color Bistro Bird Feeders in our Boothbay Harbor studio using a process and finish that is uniquely our own with a design aesthetic that is always true to our vision.