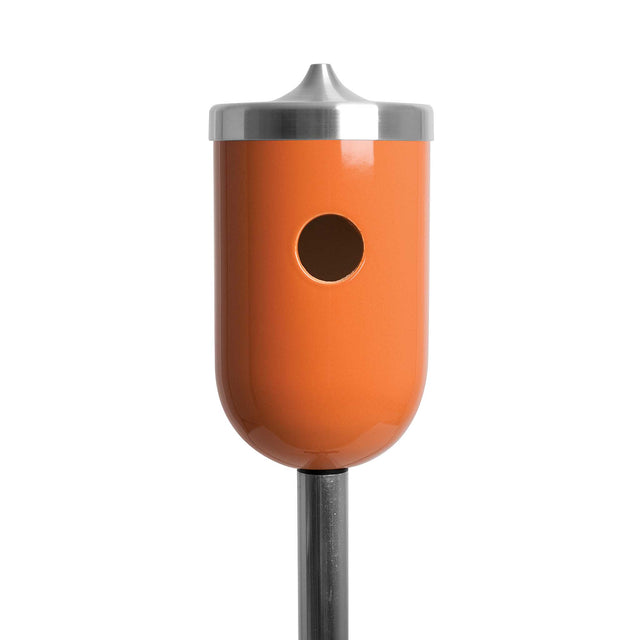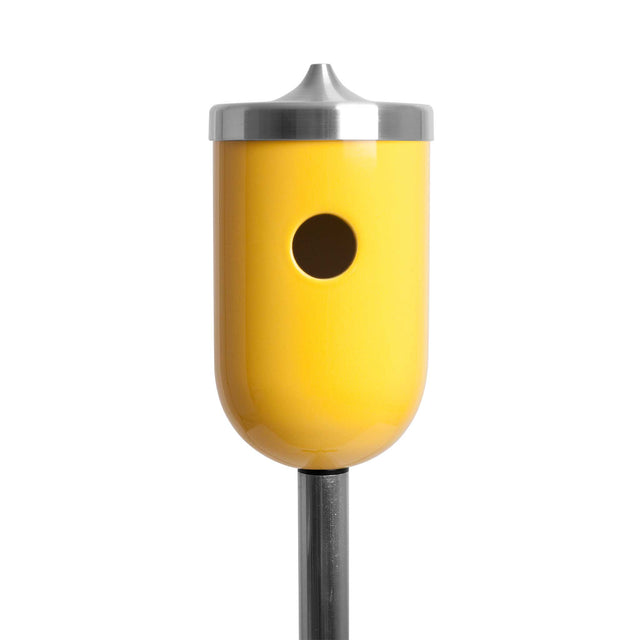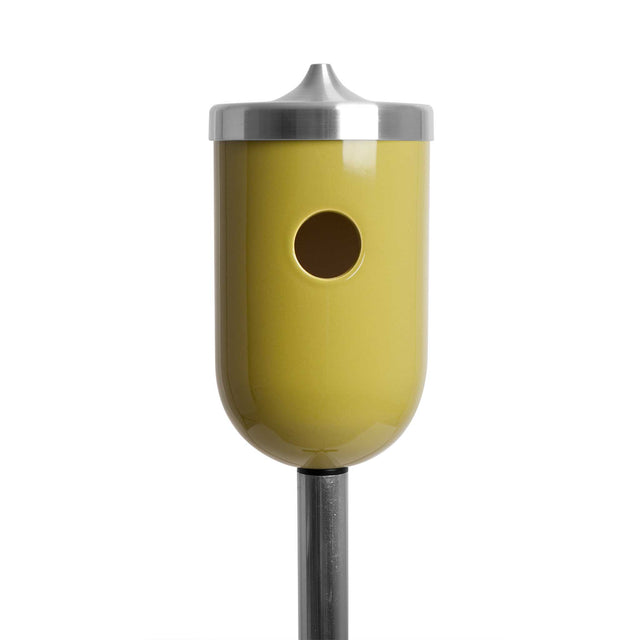 Nut Bird Houses - Custom Colors
Buy now, pay later with Klarna or Shop Pay.
Made to Order in 4 Custom Colors - Please allow 3-4 weeks for delivery
Don't have a tree? All you need is a small patch of earth for the Nut Bird House.  We designed this pole-mounted, stoneware house for wild birds like chickadees, bluebirds, titmice, and nuthatches. Mounting several colors will give your backyard an installation-like feel. Made to order in these custom colors: bittersweet orange, goldenrod yellow, sumac red, and moss green. Please allow 3-4 weeks for delivery. Returns are not available for custom-made color orders.
DETAILS
Handcrafted Glossy Stoneware Nut Bird House with Aluminum Grommet in back to secure Aluminum Cover
Interior Surface below Entry Hole is rough serving as a "bird ladder" so nestlings can easily exit the nest.
Custom Spun Aluminum Cover is easy to remove with a keyhole in back to secure it to the Nut Bird House.
Dimensions: 9 3/8" High x 5 1/8" Diameter Nut Bird House with 6' Aluminum Mounting Pole
Weight: 3 1/2 Pounds
Four Section 6' Long Aluminum Mounting Pole easily fits together (one section has a Threaded Mounting Plug)
One Nylon Screw and One Nylon Washer to secure Nut Bird House to Mounting Pole.
HOW TO USE

The Nut Bird House ships ready to install. Simply dig a hole and mount the Nut Bird House.  The removable cover allows you to easily monitor your new bird family and clean out between broods. View the complete Nut Bird House User Guide.
MADE TO ORDER
We handcraft Custom Color Nut Bird Houses in our Boothbay Harbor studio using a process and finish that is uniquely our own with a design aesthetic that is always true to our vision.